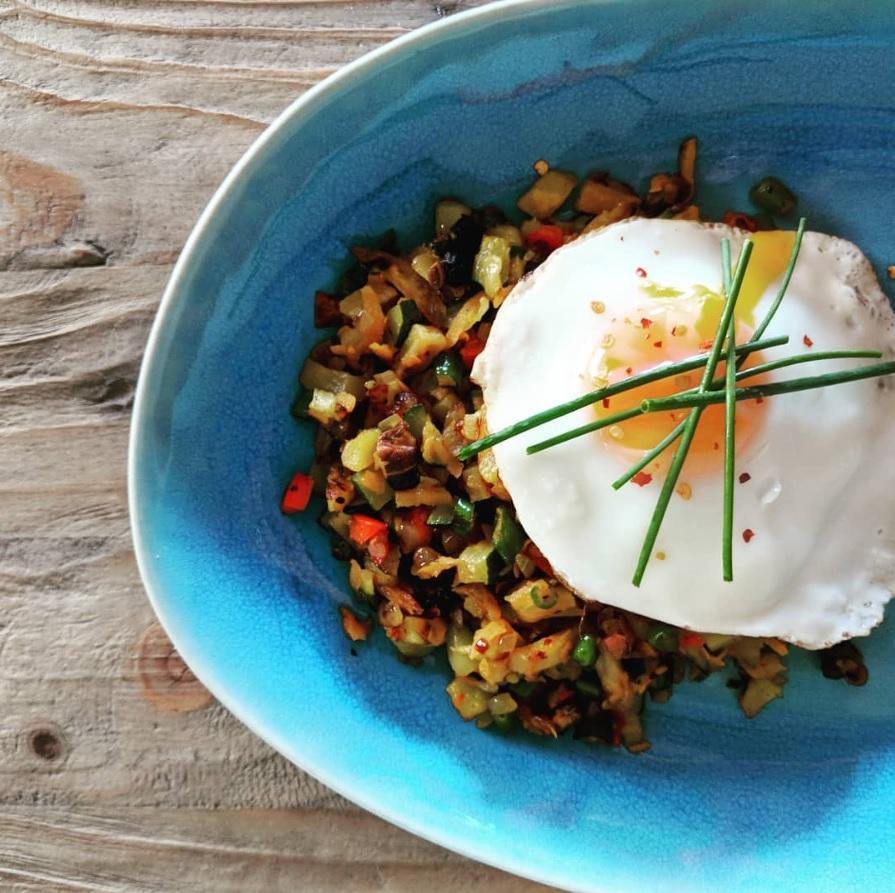 For many of us, lockdown life is less rushed. No alarms to set, no school run, nowhere to rush to. Even those of us working don't have the same pressure to get up and organised in quite the same way. We know that everyone is often more interested in the background of the Zoom calls than they should be, but luckily the other end can't see the leisure wear, pajama bottoms or shorts that lurk under the table. In this relaxed state of affairs, it's lovely to be able to take your time over breakfast. No need to eat a banana in the car or bolt down a pot of yoghurt before dashing out the door. So why not make breakfast (or brunch!) a slightly more glamorous meal? I love to use up whatever's in the fridge for this hash recipe so feel free to experiment. Other veg to try include spinach, butternut squash, broccoli, carrot, sweetcorn. Honestly you can't go wrong with any of these! Onion is definately essential though - but chives or spring onion would do as an alternative. Whatever you choose it's bound to be delicious and healthy as well! 
We are used to hearing "eat your five a day" promoted by the NHS and based on advice from the World Health Organisation. However other countries - including Canada and Japan - recommend seven or more. France goes as far as recommending 10 portions of fruit and vegetables a day. And in Australia, they say the emphasis should be on eating more vegetables than fruit and recommend five portions of vegetables and two of fruit per day. And chomping 5 carrots isn't the answer - it's best to eat a rainbow of vegetables as each contains different levels of important nutrients. Herbs and spices can also boost the nutritional benefits to meals. 
Turmeric has many scientifically proven health benefits - it's a potent anti-inflammatory and antioxidant, may improve liver function and studies suggest it has protective effects against pancreatic cancer, prostate cancer, and multiple myeloma. Pink Himalayan salt contains more calcium, potassium, magnesium and iron than regular table salt. Chilli peppers may help to fight fungal infections as well as colds and the flu. It's claimed that chillis can provide joint pain relief, support cardiovascular health and even promote red blood cell growth.
So why not give this recipe a try! 
7 Veg Breakfast Hash
Ingredients for 2 servings
1 small onion, diced finely

4-5 mushrooms, sliced

Handful of green beans, cut into small pieces

1/2 red pepper, diced

1/2 sweet potato, diced or grated

1/2 courgette, diced

1 small potato, diced

Coconut oil (or your preferred cooking oil)

2 x eggs

1/2 teaspoon turmeric

White pepper (to taste)

Himalayan pink rock salt (or sea salt)

Chilli flakes

Chives
Method
Heat your oil in a frying pan until sizzling. Add the onion and potatoes first and cook until starting to turn golden. Then add the rest of the vegetables, the turmeric, salt and pepper and saute until starting to crisp. Move the mixture over to one side and fry the eggs. Serve the hash with the fried egg on top, a few chives and chilli flakes to taste. 
Veganise by removing the egg.