Leftover Chicken Laksa Soup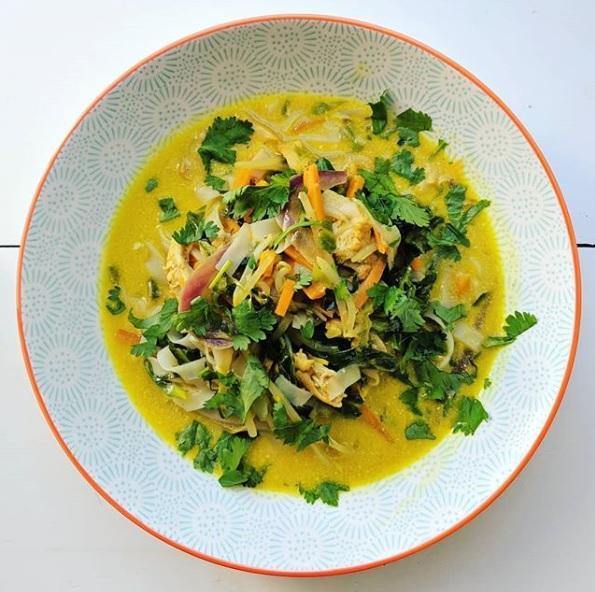 Lockdown has been a time for experimenting in the kitchen, trying out new recipes and reinventing family favourites. It's also been a time to think about food waste and ensuring we use up all those odds and ends that get left in the fridge. This recipe was born from a need to spice things up a little...although my kids could quite happily live on pasta with grated cheese, I am not so easily pleased! I cobbled together this version of a laksa using several books for inspiration then raised the fridge for leftovers. Feel free to improvise - red peppers, fine beans, baby sweetcorn - all of these would be excellent in this soup. And if you don't have any leftover chicken then prawns would be great or just go totally veggie. Spice levels can be varied too so just experiment and enjoy!
Leftover Chicken Laksa Soup

Ingredients

• Leftover roast chicken - shredded (enough for 4 portions)
• 1 chicken or vegetable stock cube
• 1 sweet potato, peeled and coarsely grated
• 1 carrot, peeled and coarsely grated
• 2 cloves of garlic
• 5 cm piece of ginger
• 1 fresh red chilli
• 1 teaspoon ground turmeric
• 2 spring onions, chopped
• beansprouts
• 1 heaped teaspoon peanut butter
• ½ a bunch of fresh coriander separated into stalks and roughly chopped leaves)
• 1 tablespoon sesame oil
• 1 tablespoon soy sauce
• 1 tablespoon fish sauce
• 300g medium rice noodles - cooked (egg noodles also work well)
• 1 x 400g tin of light coconut milk
• 1 lime - squeezed

Method

Pour about 1 litre of boiling water into a large pan and add the stock cube. Add the sweet potato and carrot and boil for 5 minutes.

Mince the garlic, ginger and chilli (or cheat and use ready prepared paste!) Chop the coriander stalks finely. Add all to the stock along with the turmeric, peanut butter, sesame oil, soy and fish sauces. Pour in the coconut milk, and bring the liquid to the boil. Add the cooked noodles, chicken, spring onions, beansprouts and lime juice, then simmer for 2 minutes.

Serve in bowls and sprinkle with the coriander leaves and slices of fresh chilli.