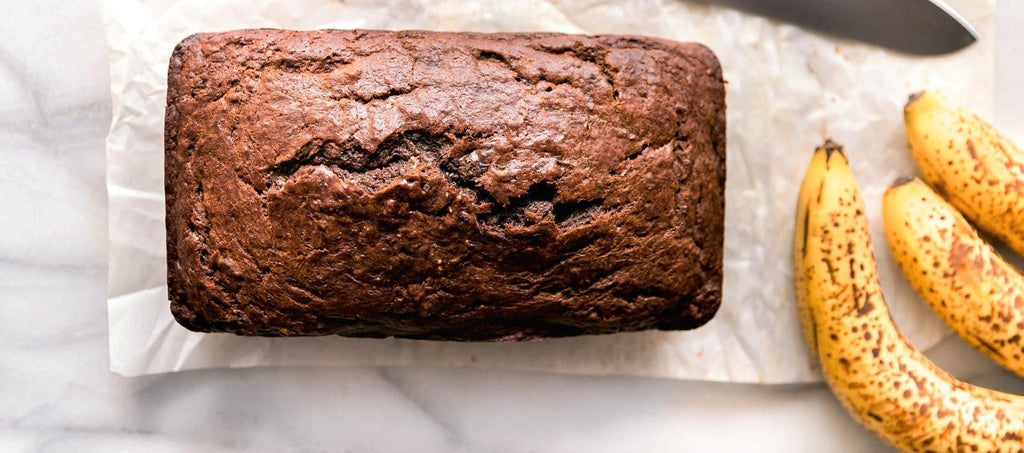 A quick Google search (other browsers are available!) reveals that there are over 500,000,000 results on the internet for 'banana bread' and Google Trends reveals that this was by far the most popular baking search term soon after the UK lockdown. Maybe in times of uncertainty we want to cling to home comforts and nostalgic treats. Or maybe it was just the sight of those browning bananas - panic bought in bulk - that inspired would be domestic goddesses (and gods) to have a go. Either way this is an easy recipe to try when you want something tasty to nibble on. And you could even claim it's one of your five a day.

If you're not a natural baker then banana bread really is the recipe for you. No fermenting sourdough starter to nurture and no fancy equipment required. The ingredients are all pretty basic and probably already in your cupboard. It's simply a matter of mixing everything together before pouring into a greased loaf tin. I've suggested creaming the sugar, eggs and butter together with a hand whisk but it would still work if you added everything together into a large bowl at the same time and stirred it all up. So you can have the satisfaction and wholesomeness of home baking without much effort or skill required!

Personally I still see banana bread in the realm of cake but apparently our American cousins often put this on the breakfast menu. If you want to keep it vaguely healthy then stick to the simple recipe but as a dessert you can pimp it up with chocolate chunks, Nutella or dried fruit or add a cream cheese frosting and caramelised bananas on top.
Leftovers (should you have any) can be toasted and buttered, made into french toast or even used in a decadent peanut butter/banana bread pudding. I've even seen a recipe for banana bread ice cream.

COOKS NOTES
The bananas do need to be ripe but they don't have to be ready to walk off to the bin by themselves. As long as they are not green they will be sweet enough and easy to mash. You may like to find a sweet chunk of fruit in your loaf so feel free to mash coarsely. Or puree if you prefer a smooth texture and possibly a gooier bread. Overripe bananas freeze well so if you're not quite ready to make the loaf then you can freeze bananas to use later.

Ingredients
• 85g butter, melted
• 150g soft light brown sugar
• 2 eggs
• 3 very ripe bananas - medium sized, mashed (or 2 large, 4 small etc.)
• 250g plain flour, sifted
• 2 tsp baking powder
• ½ tsp cinnamon
• 1 tsp vanilla extract
• 50g chopped walnuts (optional)

Method
Prep time: 20 min
Cooking time: 1h


Preheat oven to 180°C/Gas 4.
Grease a 2lb loaf tin with butter and line the base and sides with baking parchment
Sift the flour, baking powder and cinnamon into a bowl
Put the sugar, eggs and melted butter into a large bowl use a hand whisk (electric if possible!) to mix this all together until pale and slightly fluffy.
Stir in the mashed bananas and vanilla extract
Fold in the flour until it's all combined but don't overmix. Stir through the walnuts
Pour into the tin, gently tipping from side to side to cover the whole area.
Bake for about 1 hour, until a skewer inserted into the middle comes out clean.
Remove from the oven and cool on a wire rack (still in the tin) for at least 10-15 minutes.
Turn out on to a cake rack and leave to cool completely.