True love and homegrown tomatoes...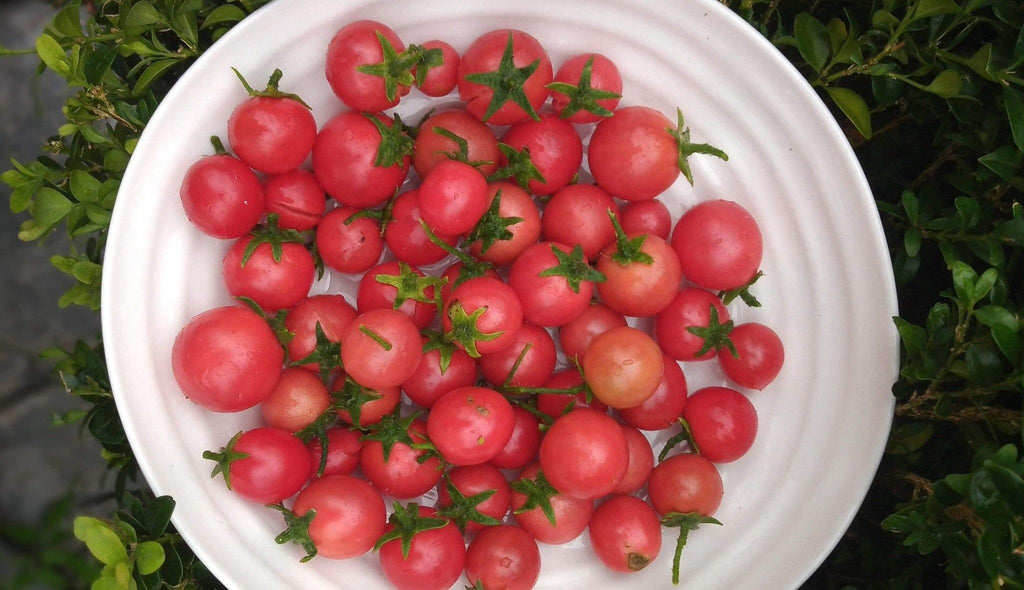 We have been growing tomatoes for years. Sometimes successfully, other times not so great. Some years we've chosen to go on holiday just as the crop is ripening and we come back to a greenhouse jungle, all the fruits having been enjoyed by the slugs in our absence.

But this year was different. I grew 2 varieties from seed. 'Mini munch' chosen by the kids and 'Honey Jade' with the promise of fruit all the way through to October. I was completely captivated by the growing process and got rather over enthusiastic - in the end I had about 30 plants, in pots, growbags and old watering cans. And although it wasn't very pretty, I loved going out in the evening to give them a drink and collect the juicy pickings. We lived off them for weeks, in salads, soups and sandwiches. The last few ones went into a delicious green tomato chutney recipe. It needs to mature for about 6 weeks so should be perfect with those Christmas cheeses or with a glazed ham over the festive season.

We all know that tomatoes are the most amazing fruit featuring in so many of our meals at home. But they are also a fantastic source of nutrients including the phytonutrient lycopene which may help to reduce the risk of contracting certain cancers. There's more lycopene in the smaller fruits (because of the higher skin ratio apparently) so cherry or plum varieties are the best to choose from a nutritional perspective. And storing them at room temperature rather than in the fridge will boost the levels even further so why not invest in a beautiful bowl to keep your tomatoes on the worktop!
I used this recipe by James Martin for my chutney as I like a little kick:
Ingredients
175g/6oz light brown sugar
150ml/5fl oz white wine vinegar
1 shallot, peeled, finely chopped
1 garlic clove, peeled, finely chopped
2cm/¾in piece fresh root ginger, peeled, finely grated
1 red chilli, finely chopped
125g/4½oz sultanas
600g/1lb 5oz green tomatoes, quartered
Method
Heat the sugar in a frying pan until the sugar melts and caramelises.
Add the white wine vinegar, shallot, garlic, ginger, chilli, sultanas and green tomatoes and bring the mixture to the boil. Reduce the heat and simmer for 1 hour, or until the chutney has thickened and you can draw a wooden spoon across the base of the pan so that it leaves a channel behind it that does not immediately fill with liquid.
Spoon the chutney into sterilised jars.
                                                                                                                             
And if you're wondering what the title means, it's a lyric from a John Denver song...
"Wha'd life be without homegrown tomatoes
Only two things money can't buy
That's true love and homegrown tomatoes"
Enjoy!